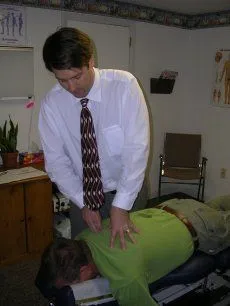 Safe, Effective Relief
Whether you call it a joint manipulation, a Chiropractic Adjustment, or just "cracking" the back makes no difference. The fact is that Chiropractic Manipulation has been proven safe and effective for conditions including pinched nerves, slipped discs, neck pain and headaches; but is best known for its ability to relieve back pain. In fact, Chiropractic Manipulation is the treatment of choice for back pain. Research has proven that it is more effective than medications, physical therapy, and traditional remedies and recommendations.
Chiropractic Manipulation works by gently restoring normal alignment and motion to joints. Joints can get misaligned or stuck due to accidents or injuries, but the vast majority of joint problems are the result of the long-term effects of poor posture and repetitive motions.
Nearly any joint in your body can get misaligned or stuck. Chiropractic Manipulations can be performed on your spine, pelvis, hips, knees, ankles, feet, shoulders, elbows, wrists and hands. However, not every joint needs to be or should be manipulated. Chiropractors are the only doctors who specialize in diagnosing and correcting misaligned or stuck joints and have the training and experience to know when and how a joint should or should not be manipulated. Allowing inadequately trained, unqualified persons to attempt to manipulate your joints may put you at risk for injury.
Alright, you may be wondering how safe "cracking" your back really is. Here is where "cracking" may cause confusion. The truth is that we don't actually "crack" anything. The "crack" is actually a little pop that sometimes happens during treatment. It is the result of pressure change in the joint and is completely harmless. Its like the pop you hear when you open a bottle of champagne.
At Burkholder Chiropractic we believe that the better a doctor is trained the better the treatment results will be. Dr. Burkholder is proficient in Chiropractic techniques ranging from hands-on to very gentle instrument assisted techniques and is able to tailor his treatments to the specific needs and comfort levels of the individual patient.